"but I can't paint......." How the magic began.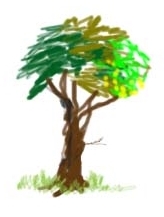 "There are no great mysteries to painting. You need only the desire, a few basic techniques and a little practice" - Bob Ross
Having entered the Bob Ross Certified Instructor Program in 2000 we have been priviliged to meet and learn from many of Bob's original Teacher Trainers.
Our Certified Ross Instructors (TM) training in Landscapes Seascapes Florals and Wildlife were taken in Roermond in the Netherlands. Since then we have been teaching this exciting technique in Sussex, Hampshire and Surrey.
To make it easy you don't even need to own a brush!
Bob Ross developed a simple oil painting technique in a language that we could all understand, together with a range of paints and brushes that enabled anyone to be able to paint. This softly spoken American artist, who through his TV series the 'Joy of Painting' has encouraged millions of people world-wide to pick up the brushes for the first time and get creative! The show has been a regular on the Discovery channels so check your TV guide to find his program.

We launched our website so that you can find out more about our classes we hold which are suitable for everyone - from the absolute novice to those of you who already paint, but want to try oils.