Painting a pet portrait is one of the most satisfying subjects an artist can undertake.
Knowing where to begin and a good technique will help you achieve great results with a little guidance from ourselves. Because your painting is so personal to you all pet portraits are taught on a 1-to-1 basis. The first steps are the most exciting as we discuss the design and begin to create the shape and form of the painting. Working from photographs we start laying down the darkest darks as a foundation for the painting.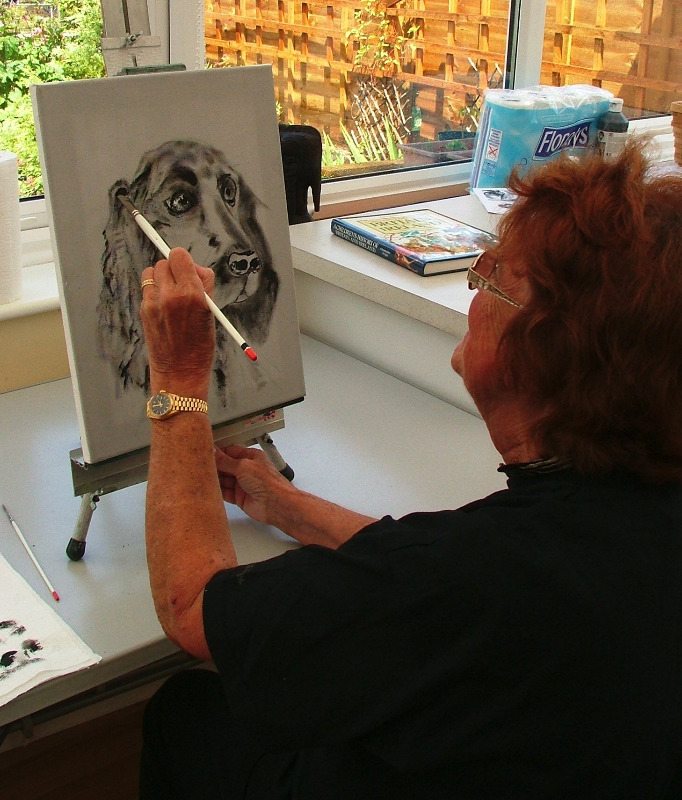 Good quality photographs are essential to achieving a true likeness of your pet. Please contact us so we can look at your photographs to make sure they are suitable for a painting. Please keep in mind that not all photographs make good paintings!
Below are a series of photographs showing some of the steps in producing a lovely black and white painting of 'Mutley'. Thank you to Deb for kindly allowing me to use her photographs.
We understand that not everyone has the time to paint their pet but would still love one done for them. Maybe as a gift? Or you live too far away to come to a class. So, consider a commission. We go through the same process of choosing a photograph and deciding if it should be a black and white study or in colour. We give you advise on size, backgrounds etc just as if you were doing the painting.
Contact us to discuss your ideas and we'll give you an idea of the cost.