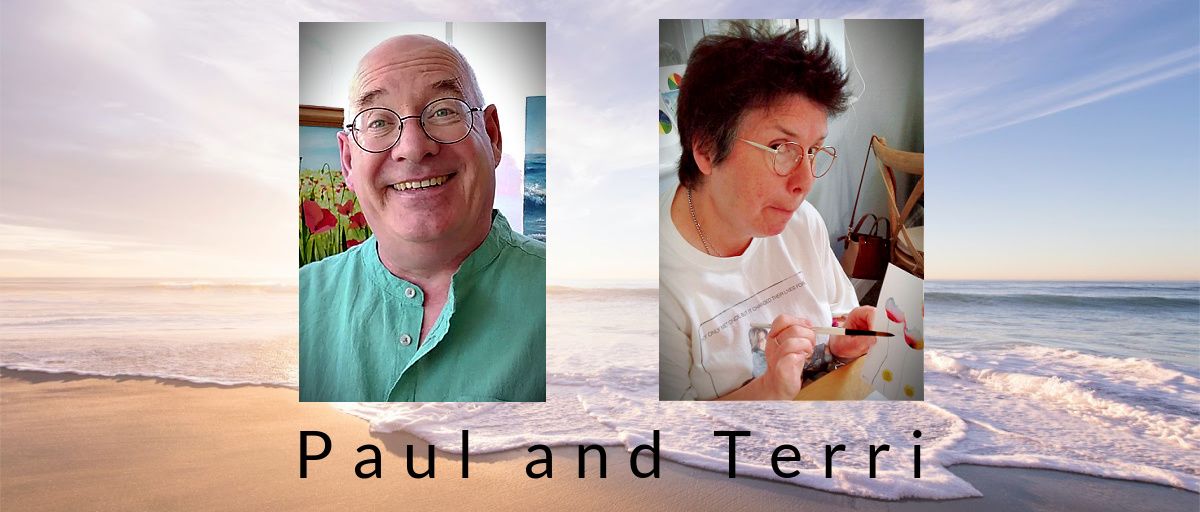 A long time ago in a galaxy far away ... well it feels like that to us!
Hello, we're Paul and Terri and we love to paint. I (Paul) can't remember a time when I didn't paint. Terri, however, was told at school that she had no aptitude for art, but in the mid-1990s she was drawn to watching Bob Ross "The Joy of Painting" on late night TV, and was struck by the ease with which he painted, and she wanted to learn more. But Life took over, and nothing happened until a few years later.
Our journey started back in 1999 when we started our teacher training in the Netherlands with the Bob Ross company, and eventually became Certified Bob Ross Instructors. In 2003 we moved from our home in London to West Sussex to continue establishing our growing number of classes.
We've spent the past 20 plus years working as professional artists and teachers encouraging others to enjoy the delights of painting particularly in oils, which is a very forgiving medium - perfect for beginners!
At the start of 2020, and thanks to the Covid virus, we decided to take our classes online and Paul began making video tutorials. This has opened up the opportunity for us to teach Beginners & Improvers here in the UK and across Europe and the rest of the world. The second change was in response to the question 'I want paint at home but don't fancy having paint thinners and solvents in my house'. Hence the adoption of Water Mixable Oils which have no (or very little) odour and require only soap and water for cleaning brushes.
Paul recently started an exciting series of tutorials beginning with 'Learn to Paint in Oils' using a basic set of five colours plus white, which keeps things affordable whilst you are learning the basics and improve your skills.
Whilst Paul continues to be the 'Front Man' for the videos, Terri has an active roll behind the scenes. Since March 2020, Terri has also begun a new journey into the world of Watercolours so that she can develop her Journey as an artist. In time she might even make a guest appearance on the videos!
Please feel free to visit our YouTube Channel – Paul Ranson Art - for more free tutorials and demonstrations and consider 'Subscribing' and ringing the bell for future tutorials.
Paul and Terri